What time frame to trade in Forex?
What is the best time frame in Forex? What is the most profitable time frame in Forex?
Those and similar questions are rising day after day in minds of novice Forex traders.
Let's drop out the philosophy and focus on facts.
We know that each time frame displays same data, but in different intervals.
The choice of time frames is wide.
Let's take the most preferred Forex time frames: 1 day, 1 hour and 5 minute.
These time frames are also perfect for beginners to test their feel about the Forex market.
On daily charts each price bar represents one day, thus a change on the chart will be observed once a day.
On hourly time frame new price bars will appear every hour, putting more data on the chart for analysis.
5 minute chart will produce a new price bar every 5 minutes, showing market changes fast and in greater details.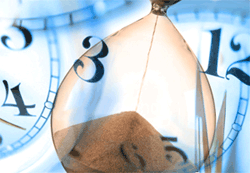 Each time frame can be traded successfully and yield opportunities for profitable trading.
What time frame to trade? It will depend on your next expectations:
A. Timing
B. Profit goals
C. Money management and tolerance for losses
Timing
Are you willing to monitor charts every 5 minutes for several hours a day?
Are you comfortable taking decisions fast and like quickly changing prices?
If yes, try trading 5 minutes charts.
Or may be you prefer a slower pace at 1 bar per hour. You also believe that hourly charts are more reliable in the way they depict the market since much of the noise produced on smaller time frames can be eliminated.
Then 1 hour time frame might be your winner.
Or it might be the case that you don't have time watching the charts during the day because you have a full time job and/or you believe that intraday changes do not have much effect on the market and summary results can be best observed by the end of the day. You may also find out that you want to hold your trading positions open overnight, means that your money will work even when you sleep; and at the same time you want to be confident that your Forex analysis wasn't based on short term momentum.`
Then daily charts would be just right for you.
Profit goals
The smaller the time frame the smaller the profit goals set by traders for each trade. E.g. while on 5 minute charts Forex traders would see reasonable targets at the next support/resistance level 15-30 pips away from the entry point, on the daily time frame profit goals will be extended several days into the future with expectations of banking 200-400 or more pips in one trade.
A trader can make same 200-400 pips trading 5 min time frame, but it would require a lot of trades to be taken, hours of price monitoring, which is not an easy task.
Money management and tolerance for losses
Forex trading is not always about wins, losses are part of the trading process.
Managing losses on 5 min time frame would be the easiest thing to do. Firstly, because a trader is able to monitor charts all the time, secondly, because losses are usually small due to the nature of 5 minute trading: price ranges are smaller and it is easy to tell when the market starts turning against your position.
Hourly charts have wider price ranges and therefore require wider stops to be placed, and in case of being wrong on a trade, larger losses to be taken.
If to speak about daily charts, losses there if occur are even larger as the market requires wider space to swing the price.
So here you have: smaller profit targets and smaller losses or larger profit targets and larger risks. Making profits with more price action and more trading opportunities, but also a lot of time spent in front of the monitor every day, or making profits with less price action and opportunities and less time spend trading Forex.